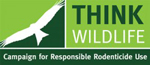 What does CRRU mean to you?
At LANDGUARD Ltd we are proud to protect our customers in the food production sector through regular rodent inspections and treatments. However, we also take limiting the effect of our business on the local environment very seriously and we've partnered up with numerous bodies helping to achieve this through up-to-date information, mentor ship and adhering to various guidelines for best practice. One of these bodies – The Campaign for Responsible Rodenticide Use (CRRU) is a response to a call for better stewardship of rodenticides to prevent wildlife exposure. This may represent a key area to those of you who are obligated to conduct rodent control at your business but who don't want to see an impact on local wildlife, with particular reference to birds of prey.
So, how can CRRU help?
As you are probably aware the increasing demands of consumers for high quality and safe food products has led to progressively higher standards required at all stages of food production. This in turn has led to stricter quality assurance requirements from buyers, such as supermarkets. One of these requirements is the need for professional – and most importantly efficient – rodent control to prevent the contamination and destruction of food products from field to plate. Conversely, the government agencies responsible for the regulation of rodenticides have called for more control over the use of these products to protect wildlife, particularly birds of prey, which may be accidentally exposed to these products.
The Campaign for Responsible Rodenticide Use (CRRU) was created out of a call for better stewardship of rodenticides. Under the banner "Think Wildlife" CRRU promotes best practice and responsible rodent control, looking to protect wildlife from rodenticide exposure. By working with CRRU LANDGUARD Ltd can implement the most safe and effective use of rodenticides, mitigating their risks while still protecting your business, reputation and valuable assets. It's as simple as that.
LANDGUARD Ltd – a better way..
For more information on how we can help you "Think Wildlife" please call the team today.
Office – 0113 2037427 or 01423 209030
24/7 –  07970 902 194